Posted by Jonathon 10 12th, 2010
Building all 5 controllers in parallel. Everything but IC sockets, terminals, and triacs installed after about 8 hours of power-soldering.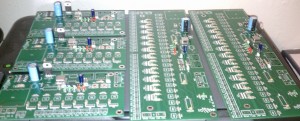 4 Comments to "Progress"
on Dec 9th 2010 at 1:43 am

1

Alex

Did you have the boards made and you soldered the electrical components to it?

The designer on the forum had many of these boards made. I bought the empty boards, and components from Mouser, and then soldered them all together, and then wired them all up.

on Nov 5th 2011 at 8:05 pm

3

microtecz

What controllers are you using?

Renard standard series 8 and 24 channel.
Leave a Reply